Big Bag Pallets are designed for the loading and unloading of raw materials and or finished products in a contained and closed system. They solve dosage in packaging systems when avoiding handling, powder loss, and environmental contamination.
Recently, the popularity of Big Bags has experienced exponential growth due to the specifically designed technologies for their use that have increased production and handling capacity.
Among its main features, the possibility of vertically holding Big Bags stands out, optimizing space and easy handling. In addition, its resistance, durability, and versatility facilitate the storage and transport of raw materials or finished products.
 High-quality Big Bag Pallets can withstand heavy loads, making them ideal for transporting and storing a wide variety of materials.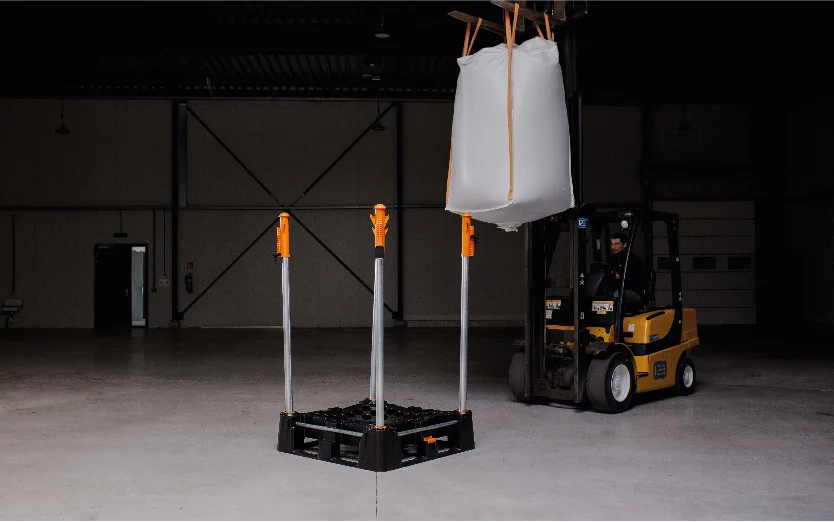 Learn about the characteristics of Big Bag Pallets and their function in industries
Easy handling: reduce the risk of injuries and increase efficiency in the supply chain.
Compliance with the strictest hygienic standards: they are ideal for transporting food and pharmaceutical products, among other industries.
Space-saving storage: lightweight, low-sized, stackable, and detachable, they allow you the maximum exploitation of limited space areas.
Waste reduction: Big Bag Pallets are fully reusable, making them an environmentally friendly and cost-effective option in the long run.
Choose a functional storage system that adjusts to your industry needs and makes a difference.
Big Bag Pallets are a highly efficient solution. Get a closer look at their features and experience the added value they bring to your business.